LIKE US ON FACEBOOK: STRAWBERRY RIVER KENNEL
SCROLL DOWN TO SEE AVAILABLE PUPPIES BELOW
NO AIR CARGO SHIPPING, we use pet nannies or ground transport for those unable to come to us.
TOY FOX TERRIERS: All our TFT puppies are AKC champion sired.
CHIHUAHUAS: All our puppies are AKC champion sired or grandsired.
GO TO GUARANTEE PAGE TO READ ALL THE TERMS BEFORE PUTTING DOWN A DEPOSIT!
All my puppies are on NUVET PET VITAMINS, order at this link. http://www.nuvet.com/45641
We feed Pawtree dog food. Please make sure to have a bag on hand for you puppy before taking puppy home, rehoming is a very stressful time and we want our babies to be kept on their food for at least a few weeks post sale! www.pawtree.com/strawberryriverkennel
OPTIONAL $25 microchip fee will be added to your balance, to cover actual cost of microchip and the cost for ME to register the chip with YOUR name and info (lifetime registration with AKC Reunite). If you want your pup microchipped, please let me know at least a few days in advance.
EMAIL: Strawberryriverkennel@yahoo.com or call/text 870-847-5715 ** CLICK ON PICS BELOW TO ENLARGE!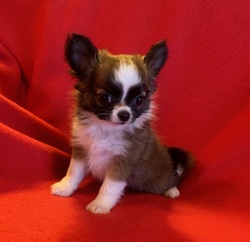 SOLD! ** Gabriel was born 6/6/20, sire is AKC CH LYNN CREEK'S I'M A RAMBLIN MAN. Dam is daughter of a Canadian champion. At least 51 champions in parent's combined five generation pedigrees that we know of. He weighs 1 lb 11 oz, parents are 4.25-4.5 lbs so my guess is 4.5 lbs grown. $1500 pet, $1750 show or breeding. We do want him bred only to champion pedigreed girls so we will want to see what pedigrees you have on your females if you want breeding rights.
SOLD!! ** FEMALE tri toy fox Terrier baby born 8/23. Out of Dot and Champion Moe. Ready to go toward end of October. $1250 pet limited AKC, $1500 showing/breeding rights.