LIKE US ON FACEBOOK: STRAWBERRY RIVER KENNEL
SCROLL DOWN TO SEE AVAILABLE PUPPIES BELOW
NO AIR CARGO SHIPPING, we prefer to meet all buyers in person.
TOY FOX TERRIERS: All our TFT puppies are AKC champion sired. $1250 pet, $1500 full AKC.
CHIHUAHUAS: All our puppies are AKC champion sired or grandsired. $1500 to $2000 pet, $2000 to $2750 full akc.
GO TO GUARANTEE PAGE TO READ ALL THE TERMS BEFORE PUTTING DOWN A DEPOSIT!
All my puppies are on NUVET PET VITAMINS, order at this link. http://www.nuvet.com/45641
OPTIONAL $25 microchip fee will be added to your balance, to cover actual cost of microchip and the cost for ME to register the chip with YOUR name and info (lifetime registration with AKC Reunite). If you want your pup microchipped, please let me know at least a few days in advance.
EMAIL: Strawberryriverkennel@yahoo.com or call/text 870-847-5715 ** CLICK ON PICS BELOW TO ENLARGE!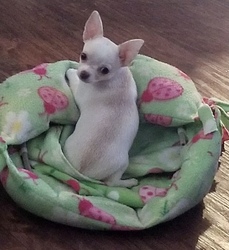 AKC Champion sired chocolate cream male, three months old. $1200 pet, $1600 full AKC for show or breeding. Call Sue in northeastern Kansas for more info. (785) 285-8338 Tell Sue that Tracey sent yiu.
UPDATE: SOLD! Iowa and Cara's available boy.. AKC champion sired long coat brindle born 5/10, ready at ten weeks. $1750 pet, $2250 full akc.
AKC champion grandsired smooth sable girl out of Midge and Buzz, expected grown weight 5-6 lbs. $2000 pet, $2500 full AKC, born 5/17. Ready to go at ten weeks.
NEW LITTER BORN 6/6, ONE BOY STILL AVAILABLE. Pics of Taffy's pups on facebook: Strawberry River Chihuahuas