TOY FOX TERRIERS
THESE ARE OUR BREEDING STOCK. Go to Available Adults page or Current Litters page for availability).
We own 5 toy fox terriers, (an AKC champion studs and 4 AKC champion sired or grandsired females). Our champion sired pups are $1250 to pet. $1500 show/breeding homes. See past puppies on the TFT Gallery page. Our TFT's are finer boned than many currently on the market and come from the original old UKC bloodlines.
Created as smaller version of their larger Smooth Fox Terrier ancestors, Toy Fox Terriers have served as ratters on farms and as hunters of small game such as squirrel. They have been successful circus dog performers and their intelligence helps them to do well in obedience and agility competitions. Their most important purpose, however, is to be a loyal, loving, and devoted companion that amuses and entertains their families. Truckers love Toy Fox Terriers because of their fierce loyalty and their small size, they are great watch dogs and bark to warn you of strangers or anything amiss! The TFW is adaptible, intelligent, loyal, protective, friendly, affectionate with family (but they have fragile legs so keep an eye on the kids!), easy to groom, generally healthy, playful and energetic. They get along well with other dogs in the household, but not small animals like gerbils or hamsters. They have a high prey drive which can overrule all training! A trait in all terrier breeds I've been around.
Any Available puppies will be pictured on the Current Litters page.
This is AKC CHAMPION STORMIN'S N TOCUTE RINGSIDE DYNAMO (AKA "MOE"). Son of AKC GRAND CH STORMIN'S N TOCUTE RINGSIDE DYNAMO x TOCUTE N STORMIN'S DEVILISH DESIGN. DOB 5/15. Weight 6.5 lbs. 38 champions in five generations. Moe is a sweetheart. Loves to jump up in my lap and give kisses! Loves to leap into your arms.
Moe is clear of PLL by parentage, and tested normal/clear of SCA & CHG. Moe is available for stud.
Diva, (AKC name SR'S TOCUTE DREAMS DIVA). Daughter of AKC/UKC CH PATRICK'S STRIKE UP THE BAND x TOCUTE DREAMS DO COME TRUE. 5.5 lb, 6/13/16. At least 16 champions in five generations. Shy dog but a wonderful mother throwing friendly happy outgoing babies!! Clear of CHG by parentage, certified clear of DM, carrier/not affected of PLL (will always be bred to clear males so that pups will not be affected)
"LUNA", AKC name I'LL FLY ME TO THE MOON TOCUTE. Daughter of Tocute Total Eclipz Of The Sun x AKC CH Stormins' Sailor Moon. Born 3/19, 4 lbs, very small.
DOT, granddaughter of AKC Champion TOCUTE LIL MISS FANCY, 7.5 lbs. Dot has been genetically tested and is clear of CHG, PLL, and SCA, the three main genetic diseases in TFT's..
MAZIE, (AKC name S R Tocute I'm Amazing), daughter of AKC CH TNT&TOCUTE'S NITRO EXPRESS V MARRIC. 5 lbs. Tested clear of DM and PLL, SCA and CHG test results should be in any day.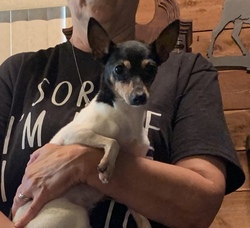 LAYLA (Tocute Going For Broke) is 5 lb daughter of AKC CH TOCUTE BRONCO BILLY and GCH CH TOCUTE IN YOUR EYES ONLY. Born 12/18/15. 10 ch in 5 gen (AKC doesn't show UKC champions on AKC pedigrees).